Children's Auction founder reflects on event's growth, popularity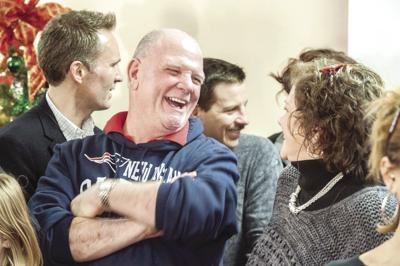 By JANICE BEETLE, For The Laconia Daily Sun Nov 21, 2019 Updated Nov 29, 2019
LACONIA — In 1976, when Warren Bailey was starting his career as a morning disc jockey at WLNH, his mentor taught him something that has since changed the lives of thousands in the Lakes Region. "He told me, 'The microphone is a powerful tool. Do something meaningful with it,'" Warren recalled.
It wasn't a message Bailey knew how to act on at 24. Six years later, he knocked on the door of an apartment building to let the resident know he'd won a prize for displaying a WLNH bumper sticker on his car.
There was no furniture inside. A baby was lying on the bare wooden floor, wrapped in a blanket. Bailey was confused, thinking perhaps they were just moving in, before he realized he was looking poverty in the eye for the first time.
Bailey heard his mentor's mantra in his head, and understood what he needed to do. He founded the Greater Lakes Region Children's Auction that year, using the power of his microphone to raise money for children and families in need.
Broadcasting on WLNH from an unheated van on North Main Street, Bailey raised $2,100, auctioning off two truckloads of donated items. Over time, area residents added to the auction, creating an event that helps sustain 62 area nonprofits.
The auction now involves thousands, some who give up a week's vacation to take part. The items auctioned are so plentiful that a nonprofit board now governs the event. In 2018, the auction raised $580,584.
"It's overwhelming," said Bailey, who gets weepy as he tells auction stories from nearly four decades. They are the stories of the people who have helped the effort grow, been served and now give back. "It takes your breath away," he added. "The volunteers are there every year." 
Bailey joined after working in radio in Massachusetts and New Hampshire for several years. "I fell in love with the area and the station. The local owner and our wonderful staff was there for me right from the beginning," he said.
After leaving WLNH in 2001, Bailey co-owned a radio station and later moved to television and digital sales. In 2015, he launched his own media-buying business, WB Media 1.
Bailey will make his traditional appearance at the auction during the 38th annual event, to be held Dec. 3-7 at the Belknap Mall. Bailey looks forward to returning to hear stories from children who were helped long ago and now give back in gratitude. One is a young girl turned away from the auction site 25 years ago, accompanied by her crying mother, deemed unworthy of assistance due to an addiction and sent away by a since-excused volunteer. Bailey followed them out and gave the mother $20, saying, "Promise me you will do something for your daughter with this."
The girl, now a grown woman and paralegal in Boston, recently attended the auction. She asked for Bailey personally, thanked him for the help he offered her late mother, and handed him a check for $1,000. "That's the kind of impact that the auction has had," Bailey said. "And that's just one powerful story."
When it started, Bailey asked everyone he met to listen to his story of the auction for 10 minutes, building steady and unexpected support and growth.
In 1998, Terry Hicks became the new general manager for Metrocast and offered to televise the event, previously broadcast only on the radio. Around the same time, businessman David McGreevy spearheaded the building of an elaborate set for the auction.
Alan MacRae, who worked for the telephone company NYNEX, made it possible for the auction to have four phones instead of one. Now, there is an entire phone bank of volunteers. R.J. and Bridget Harding, owners of the Bank of New Hampshire Pavilion, offered their entire staff and equipment for the week of the event, starting a tradition that continues. Most recently, Patrick's Pub & Eatery created Pub Mania, a 24-hour event that has raised nearly $2 million over 10 years.
"The generosity of the community blows my mind," Bailey said. "There's no shortage of Christmas spirit at the Children's Auction."
The Children's Auction runs Dec. 3-7 at the Belknap Mall. The community is encouraged to bring an item to donate, or come to bid. Visit www.ChildrensAuction.com to learn more.
To nominate a Children's Auction champion, send suggestions to Jennifer Kelley at Jenn@ChildrensAuction.com.